Biography
BARBARA NEVINS TAYLOR

Barbara Nevins Taylor began narrating audiobooks in 2015. She is also the founder of ConsumerMojo.com. As an entrepreneurial digital journalist, she is dedicated to providing information that can help people make informed decisions.

The award-winning TV news investigative reporter won her 22nd Emmy award in 2012 and teaches the next generation of journalists at CUNY colleges. She will teach a class called "Stories of Immigration" at The City College of New York in June.

On ConsumerMojo.com, Barbara uses the latest digital and video storytelling techniques to serve a growing audience that needs reliable information about complicated issues. She and her team report about 55-Plus concerns, Medicare, immigration issues, credit, student loans and more.

As a TV investigative reporter, Barbara pursued stories that made a difference in the lives of individuals and the community. This was evident in her work as she moved from Huntsville, Alabama to Lexington, Kentucky to Atlanta, Georgia and to New York City to work for WCBS-TV, CNBC, WWOR-TV and WNYW-TV.

Her stories reflected her personal commitment to enterprise reporting about important social and financial issues and trends. She is the winner of more than fifty major journalism honors and awards including a "Laurel" from the Columbia Journalism Review.

Her reports earned praise, generated government action and helped send wrongdoers to prison. Long before the most recent financial crisis, Barbara exposed flaws in the mortgage lending and banking system.

In the 1990s Barbara's investigation of widespread real estate and banking fraud that victimized first-time homebuyers and cheated a government-insured loan program won awards. It also sparked a United States Senate hearing and crackdowns by HUD, the New York State Attorney General, The New York State Banking Department, and the New York City Department of Consumer Affairs.

In the spring semester of 2012, she was the Jack Newfield Visiting Professor of Investigative Reporting at Hunter College. She's an Assistant Professor at Brooklyn College where she teaches video reporting and writing. She also taught broadcast writing at Hofstra University.

In 2012, in addition to an Emmy award, she won the Newswomen's Club of New York's award for enterprise reporting, the New York Press Club award for political reporting and Long Island Fair Media Council's award for accountability reporting. Her work has been honored repeatedly by the Associated Press, the New York Press Club, the Society of Professional Journalists in New York and New Jersey, the Newswomen's Club of New York, the New Jersey Broadcasters Association and the New York Society of Silurians.

Her students are now winning awards. They won an Emmy for Best Newscast in the 2014 student national competition and they are regional winners for Best Newscast, Feature and Sports reporting in the Society of Professional Journalists' Mark of Excellence competition. Nevins Taylor's students also won the Mark of Excellence in 2010

The alumni of the City College of New York awarded her the prestigious Townsend Harris Medal in recognition of her outstanding achievements. She was also named to The City College Communications Alumni Hall of Fame.

Barbara's last TV job was with WNYW, Fox5 and WWOR, My9. She worked as a television correspondent for more than twenty-five years. Before taking a hiatus from reporting in 1991 to devote attention to a foster child, she was a long-time correspondent for WCBS-TV where she won acclaim for her perceptive reporting. Previously, she was the chief political correspondent at WAGA in Atlanta, Georgia. She began her TV reporting career at WHNT in Huntsville, Alabama and went on to work as an anchor and reporter at WKYT in Lexington, Kentucky.

Barbara contributed to The New York Times Op-Ed page, writing about issues affecting young people in New York City. Her writing has also focused on issues of concern to parents and women, and has appeared in national magazines. Her book Beautiful Skin of Color, with doctors Jeanine Downie and Fran Cook-Bolden, published by ReganBooks, evolved from her television reports.

Barbara is a trustee of the Community Service Society of New York. She has been a foster mother and a mentor to many children.

Barbara is married to writer and Authors Guild past President Nick Taylor, author of twelve non-fiction books including American-Made: The Enduring Legacy of the WPA, When Roosevelt Put the Nation to Work; and Laser: The Inventor, the Nobel Laureate and the 30-Year Patent War. He is also the co-author, with John Glenn, of John Glenn, A Memoir. Barbara is a black belt in full-contact, traditional Japanese karate and she practices yoga, rides a bike and enjoys sailing, gardens and likes to cook.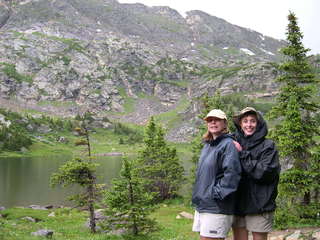 July 26th. It was a beautiful morning when we left the valley where my sister Hope and brother-in-law Ed live. They chose a long hike in the Holy Cross Wilderness Area, west of the continental divide, up to a place called Missouri Lakes. It's a series of small lakes on a dramatic plateau about 11 thousand miles above sea level. We picked up sandwiches and water at a small deli and tucked them into our backpacks. The trailhead was about a 25 mile drive from Hope and Ed's house. The drive through mountains was spectacular through western towns called Redcliff, Minturn, and Leadville. But we were after something more strenuous and a little riskier. We parked the car, and started the steep ascent. The first ten minutes of a hike are tough for me as I adjust to the kind breathing you need to do in high altitudes. Hope and I walked slowly as Nick and Ed barreled ahead. We wound our way through thick woods, up the steep trails, past streams, waterfalls, and beautiful wild flowers. I had a field guide and was very eager to name every flower that I saw. So Hope and I were much slower than the guys. About an hour into the hike, it started to rain. We had rain gear, ponchos and hats, so we weren't too concerned. There weren't many people on the trail, although we passed a few small groups, and others passed us. Suddenly it started to sleet. We saw three people who had passed us huddling on a huge boulder under a tree that wasn't providing much shelter. We pressed on. It was impossible to hide from the pellets of hail pummeling us. We kept are heads down. We tread carefully, climbing over the slippery rocks, and squishing through the red dirt turning to mud. No one suggested that we turn back. It was my birthday. We had to complete the hike. Three hours after we began, we straggled into a wide meadow. We were close to the top of the snow covered mountain peaks, and the chain of lakes lay right below them. But we weren't there yet. Ed and Nick had disappeared through a strand of trees. I was wet, walking slowly with great determination. Hope was behind me. Suddenly from the left a bolt of lighting shot out in front of me. If I'd been walking a little faster, I would have been hit. I didn't scream. I kept walking. "Did you see that?" I called to Hope. "I saw it," she said. Nick and Ed were waiting near the lakes, under a tree, trying to stay dry enough to eat. We were numb from the climb, and soaking wet. But it was so beautiful. Each of us, except Hope, drifted off to find a place to pee. Hope doesn't do that in the wilderness. We wandered around. We ate. The soggy sandwiches tasted delicious, and then we began the climb down. It wasn't hailing. It wasn't raining. The sun came out. It was a wonderful day.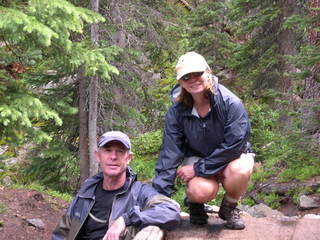 On this day in July, it rained. It sleeted and the sky was piereced with lightening. After two hours of hiking, we were walking single-file, the guys were ahead of us. As we approached the lake area a bolt of lightening shot out in front of me. A little stunned, Hope and I walked on to meet the guys. It was a seeing to believe-it moment, and both Hope and I saw it.